Catholic Register - Biographical Sketch
A Prince In the Service of The Great King
The Catholic Register - March 16, 2009
Betty Seymour writes of another illustrious speaker who paid tribute to Father Gallitzin.
On the two hundredth anniversary of the birth of Prince Gallitzin in 1970, the Archbishop of Baltimore, Lawrence Cardinal Shehan, was the guest speaker at celebrations in Loretto. Born in Baltimore in 1898, he was ordained a priest at the Basilica of Saint John Latern in Rome , in 1922. He served as pastor of St. Patrick Parish and director of Catholic Charities in Washington , D.C. ; was appointed Auxiliary Bishop of Baltimore in 1945;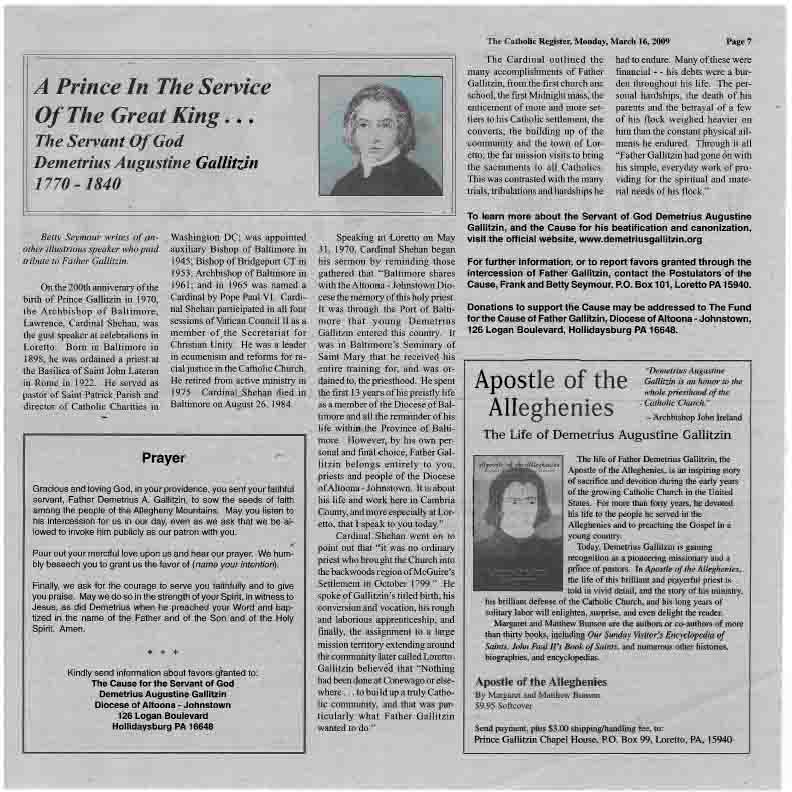 Bishop of Bridgeport, Connecticut in 1953; Archbishop of Baltimore in 1961; and in 1965 was named a Cardinal by Pope Paul VI. Cardinal Shehan participated in all four periods of Vatican Council II as a member of the Secretariat for Christian Unity. He was a leader in ecumenism and reforms for racial justice in the Catholic Church. He retired from active ministry in 1975.

Cardinal Chehan died in Baltimore on August 26, 1984.
Speaking at Loretto on May 11, 1970, Cardinal Shehan began his sermon by reminding those gathered that, " Baltimore shares with the Altoona-Johnstown Diocese the memory of this holy priest. It was through the Port of Baltimore that young Demetrius Gallitzin entered this country. It was in Baltimore seminary of St. Mary that he received his entire training for, and was ordained to, the priesthood. He spent the first thirteen years of his priestly life as a member of the Diocese of Baltimore, and all the remainder of his life within the Province of Baltimore . However, by his own personal and final choice, Father Gallitzin belongs entirely to you, priests and people of the Diocese of Altoona-Johnstown. It is about his life and work here in Cambria County , and more especially at Loretto, that I speak to you today."
Cardinal Shehan went on to point out that, "it was no ordinary priest who brought the Church into the backwoods region of McGuire's Settlement in October 1799". He spoke of Gallitzin's titled birth, his conversion and vocation, his rough and laborious apprenticeship, and finally, the assignment to a large mission territory extending around the community later called Loretto. Gallitzin believed that, "Nothing had been done at Conewago or elsewhere …to build up a truly Catholic community, and that was particularly what Father Gallitzin wanted to do".
The Cardinal outlined the many accomplishments of Gallitzin from the first church and school, the first Midnight Mass, the enticement of more and more settlers to his Catholic settlement, the converts, the building up of the community and the town of Loretto, the far mission visits to bring the sacraments to all Catholics. This was contrasted with the many trials, tribulations and hardships he had to endure. Many of these were financial - his debts were a burden throughout his life. The personal hardships, as the death of his parents and the betrayal of a few of his flock, weighed heavier on him than the constant physical ailments he endured. Through it all, "Father Gallitzin had gone on with his simple, everyday work of providing for the spiritual and material needs of his flock."